Training to be Hard to Kill?
April 28, 2023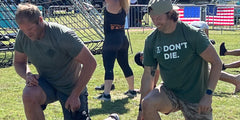 I recently was asked to speak at the GoRuck Sandlot Jax Fitness Festival in Jacksonville, FL.  Yeah, you read that right: they wanted my 42 year old desk jockey self to get in front of some of the fittest people on Earth, and talk about fitness.  
To make matters more interesting, I was speaking between Michael Easter, the author of "The Comfort Crisis" and Nick Lavery, a giant of a man and special forces member who saved his own life by shoving gauze in to his mostly-severed leg during an intense firefight. 
What could I talk about to differentiate?  
Differentiation. 
As I looked around the crowd, there were an amazing amount of fit, strong, smart people.  But despite this, I still had a feeling many of them were more narrow in their approach to fitness than was idea.  Let me explain.
Most of us go to the gym. We wear nice, fresh, lightweight clothing.  Our shoes are tailored to either running, lifting or whatever our exercise of choice is.  We grab a fresh towel, drink our pre-workout, and turn on our favorite pump-up song.  When we're done, we spray some eucalyptus in the steam room…  It's nice.  But it's not helpful.  
Emergencies rarely happen at the perfect moment.  It's a large part of what actually makes them emergencies.  
Emergencies happen in the middle of the night.  Or in a snow storm.  They happen when you're sick.  Or when you don't have the perfect gear on hand. 
I want to encourage you to train for those moments.
1. DIVERSITY OF WORKOUT
Train inside.  Train outside.  Train early.  Train late.  Train cold.  Train hot.  Train without water.  Wear hiking boots on a long run. Carry a heavy awkward object instead of a perfectly balanced backpack or weight.  Basically: Do whatever you've been doing, but do it in a different environment, at a different time, with different equipment. 

2. DIVERSITY OF TRAINING PARTNER
We've all got our strengths.  We've all got our weaknesses.  Nothing reveals those more, and gets us out of our comfort zone more effectively, than training with someone that exposes those weak spots.  Find new training partners.  Make sure they have a focus that is different than yours, and let them crush you. You're only as strong as your weakest link, so let's fix those weak links. 
3. MAKE IT HARD, MENTALLY 
Research shows that most times, the first thing to give up is not the muscle, but the mind. Strengthen your mind, and strengthen you.  That may mean problem solving during a workout, extending a complicated routine past the point of mental exhaustion, or maybe it's getting your workout in after a long day at the office.  Whatever it is, push the mind as often as you can. 
I truly believe that if you live on the edge of your comfort zone, your comfort zone will grow.  And with that growth, comes opportunity. Whether physically, mentally, or in any other way, I hope you find comfort in the uncomfortable, and live the life you were designed to.