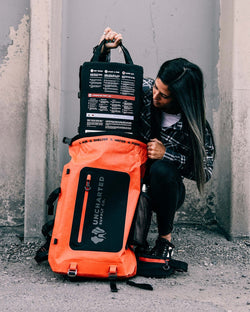 SURVIVAL SYSTEMS
72 HOUR SURVIVAL KITS FOR UP TO 4 PEOPLE.
We call it a survival system, others might know it as a bug-out bag or go-bag.
Each of our systems contain essentials to keep you alive for 72 hours - whether you are stuck at home or need to evacuate quickly.
The Basecamp
Built upon the nearly indestructible YETI GoBox, the Basecamp has everything you need for a family of 4.
72 hours of Survival Gear for 4 people.
THE SEVENTY2® Pro Survival System
We took the world's best Survival System and made it even better. Due to overwhelming demand by government, experts and professional groups, we went back to the drawing board and rebuilt the Seventy2 from the ground up for professional daily use. The result? The world's best Survival System for two people.
72 hours of Survival Gear for 2 people.
THE SEVENTY2® Survival System
95% of all survival situations are resolved within 72 hours. What you do with that time matters. The SEVENTY2® Survival System is the world's first fully integrated survival system designed to guide you safely through any unexpected emergency situation.
72 hours of Survival Gear for 1 person.
First Aid Plus
It's called the First Aid Plus, but it's really a compact survival kit. First aid and tools in an indestructible case make this our best value and a great kit for home, vehicles, or the office.
Comprehensive First Aid Plus Tools, Waterproof shell