Which Survival System is Right for Me?
November 03, 2023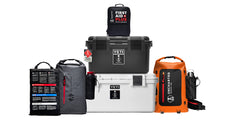 We offer a selection of first aid and survival kits designed to fit your different personal needs.
A few things to consider when purchasing: 
How many people are you looking for coverage for?
What are the ages and abilities of each person?

 

What types of emergencies are most likely given your lifestyle and where you live?
How many people are in need of coverage? 
While it's important to have coverage for each member of your family, there are other key aspects to consider.   Do the members of your family stay in close proximity during the day, or do they lead different lives during the day, but return together in the evening?  
This is a critical thing to keep in mind - as an example, it would not be most effective if one person has a 4-person kit in their vehicle, but the rest of the family is not in close proximity, leaving them with no coverage.  So a multi-person kit provides coverage when people are living and working in close proximity, but individual or 2 person kits are better suited for individuals that leave home each day and operate independently most of the day. 
What are the ages and abilities of each person?
That said, if a parent is looking for coverage for someone under the age of 12, we recommend a 2 person kit, as a parent will likely be extremely important in administering tools, first aid, food to the younger individual.
On the other side, if one of the dependents is elderly, they may also need the assistance of someone else, and in this case, a 2 person kit would be more effective. 
Always personalize your kit.
Our kits are designed to be a great starting point.  A completely comprehensive kit will include your input on your specific needs (medications, reading glasses, etc) as well as extras that are dependent on your environment (extra water and shade for hot areas, extra blankets and warmth items for cold environments).  This is why our Seventy2, Seventy2 Pro, and Basecamp 60L all feature extra room to hold your extra personal items. 
How the Uncharted products stack up: 
It's a first aid kit, but also includes some of the most used pieces of our survival kit.  For someone on a budget, or looking for additional coverage in a second vehicle, or at work, this is a great kit that provides significant coverage for most emergencies at an extremely competitive price. 
A great, lightweight one-person survival kit for singles, and people who travel/work alone primarily.
Coverage for 2+ people, whether it's your young child, elderly parent, or you want extra gear to take care of a friend or neighbor if the need arises
Designed for 4 people, this kit is perfect to have in a home, office, or other location where groups of people spend significant time.  Easily stackable, and completely weather proof means everything inside will be ready when you need it. 
Configured for 4 people, it provides significant storage for blankets, extra food, or anything else your situation requires.   With tools for up to 8 people, it's our largest kit providing the most coverage in a single package for larger groups.