October 23, 2023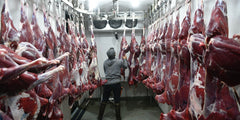 In mid-October, I traveled to Maui.  But unlike most trips to Maui, there were no visits to the beach, no board shorts packed, and if I'm honest, I hardly saw the sun over the 72 hours I was on the ground.   
I wasn't there for vacation, I was there to help our partners at @mauinuivenison with their Holo 'Ai Program - an axis deer venison donation program designed to help locals displaced by the Maui fires.  
Maui Nui keeps trusted Uncharted products on hand, to help keep their hard-working employees safe. But I wanted to experience the Maui Nui process first-hand, and better understand how Uncharted, and our products, could be more effective and helpful.  
What I experienced was quite incredible.  Maui Nui is a great business with a philanthropic arm truly making a difference, all packaged up in a powerful conservation effort. 
The teams at Maui Nui have gone out every night (except 2 nights due to hurricanes) for over 7 years, and harvested axis deer, an invasive, highly reproductive animal that left alone, would destroy Maui's vegetation and subsequently the coral, ocean and marine life around the island as well.
Each night, 10 to 15 people from the Maui Nui team, accompanied by a USDA Inspector, dispatch the deer using rifles equipped with thermal technology. The carcasses are then carried back on the shoulders to an on-site USDA-monitored facility, where they are transported, processed, and packaged, becoming ready for distribution almost overnight.
The founder of Maui Nui, Jacob Muise, sees a big future.  Thanks in part to the fact that axis meat is the healthiest, most protein dense red meat on planet earth, Maui Nui is getting attention from world-class athletes, investors in the health space, and consumers around the country.
Despite harvesting 10-15,000 deer a year, the population of deer on Maui is still growing. It'll take harvesting 30,000 deer a year to simply keep the population consistent. At which point, Muise plans to expand efforts to other islands with the same problem.
Over the past few months, Jacob has dedicated 4 nights per month of harvesting to provide meat for the local Maui residents who are displaced and suffering from the devastating fires that occurred in August. To date, they've donated over 35,000 pounds of meat. On my weekend visit alone, we harvested 138 axis deer, enough to fill 17 freezers around Maui – free of charge.
@unchartedsupplyco is proud to be a partner of this incredible cause. If you'd like to get involved, it's easy, go buy some meat, and every pound you buy pays to help harvest a pound of donation ground burger.