Winter Gear Update: Pick Your Adventure and Find Your Seasonal Style
January 28, 2020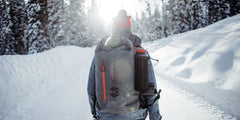 This winter, be ready for anything. Whether you're knee-deep in powder on the slopes, camping out at a National Park, or braving your hectic commute, we have everything you need for a snow season you won't forget. This winter, our curated collection of essentials has you covered, wherever your holiday plans take you.
Seeking Outdoor Adventure
From catching a winter sunrise over the Grand Canyon to hiking a snow-covered backwoods trail, you're a nature fanatic that can't get enough of the great outdoors. No amount of snow, rain, heat, or gloom will stop you from getting out there. If you're 1/2 of an adventurous couple, check out our Seventy2 Pro, you'll make it safely anywhere your day takes you with enough supplies for two people.
If your out on a solo trek you absolutely need the Seventy2 Survival System, even if you're stranded for 72 hours you'll be covered. Complete your gear with our water-resistant streamlined parka, The Hideaway, that packs down to the size of a baseball and will keep you completely dry and comfortable no matter what the weather throws at them.
Wrangling the Family
From soccer practice and birthday parties to the work grind and regular commutes, keeping track of a family's schedule can be a challenge. Always be prepared whether you're running errands around town or headed out to the cabin for the weekend. Empower yourself with preparedness.
The Zeus is peace of mind from everything from dead car batteries to iPhones. It's specially designed to not generate sparks and allows you autonomy rather than relying on strangers or waiting for help. Also, a kit featuring a Multi-Tool, Matches, and a Flashlight provides the essentials to help you through any situation.
If you want to make sure you're 100% equipped, check out the Seventy2 Survival System - the world's best selling survival kit. With everything from first aid tools to spare hats and gloves, you'll never be underprepared. Survival isn't only about human vs. nature; sometimes, it's about owning your day-to-day life.
Hitting the Slopes
You often find yourself trekking through the snow solo or carving down a mountain somewhere remote. You love winter and you're outside as soon as the snow starts falling with all the best gear. The good news is you'll have the perfect upgrades this season.
Start with a fresh new Beanie, because on the slopes you have to always keep cozy. Snowy terrain is beautiful, but can potentially be dangerous, which makes our lightweight and well-equipped Triage Kit the perfect emergency kit to have out on those black diamonds. It can be used to fix gear, administer first aid and fits in most ski jacket pockets.
Want to take your game to the next level? The Seventy2 Shell is a comfortable waterproof backpack designed to carry all of your things, whether it be lunch, cameras or more ski gear.
Surviving the City
Survival doesn't just happen in the wilderness. Life in the big city comes with its own unique situations to handle. Between winning the workweek, making the most of the weekend and powering through long commutes, there's a lot that can happen between sunrise and setting out for happy hour.
The Hard to Kill Shirt and our The Gray Man Hat are perfect for the city dweller who wants to look good, be comfortable and tackle anything along the way. In case the unexpected happens, the 24Seven has got your back. This bag features a CARD system to safely store items. This everyday use bag also comes with a small survival kit for navigating 24-hour crises. From cameras and computers to tech and gear, the customizable design lets you pack whatever you need for your day.