June 15, 2021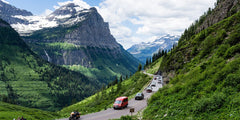 The snow has melted. The pandemic is in the rear-view. Good times are here again. Maybe the last year has made you decide to check a few of those 'somedays' off the list, and at the top of many lists are the National Parks throughout the United States.
A BRIEF HISTORY
On March 1, 1872, congress established Yellowstone National Park as 'a public park of pleasuring-ground for the benefit and enjoyment of the people." Today, there are over 1,200 national parks (or equivalent preserves) in more than 100 countries. The United States alone has 63 national parks ¬¬– whether you plan to visit the Great Smoky Mountains National Park in Tennessee or Grand Teton National Park in Wyoming (one of my all-time favorite places on Earth!), being a good steward as well as making sure you have a full experience comes down to a few key points.
HOW TO PLAN FOR YOUR NATIONAL PARK ADVENTURE
As with any adventure, planning is critical. The small towns surrounding our National Parks are well-suited to handle normal crowds, but a freak storm, or even a holiday can quickly put these places at capacity and leave you on the outside looking in. Today, I'd like to cover how to plan for and what I suggest you pack for a day in one of our amazing National Parks. It goes without saying that each person, park and day is different, so make sure to customize this based on weather, personal needs and environment.
TRAVELING TO A NATIONAL PARK
PLAN AHEAD: National Parks are inherently wild, and with limited services it's very easy to find yourself stuck or delayed due to road closure, weather or holiday. My general rules are as follows:
HAVE PLENTY OF FUEL: I never let my truck go below half a tank of gas. No matter what, you'll be able to stay warm and protected for several days with half a tank of gas. And you'll have plenty of cushion if that gas station in the middle of nowhere on your gps turns out to be closed for the season - something that has happened more frequently as the pandemic has crushed small businesses.
CARRY MORE WATER THAN YOU THINK YOU WILL NEED: I always carry a couple extra gallons of water in my truck, as well as a Sawyer Mini. Water is one of those non-negotiables, and without it, things can escalate quickly – especially if you have pets or children depending on you as well. Make sure your water container has a solid seal (something like a re-used milk jugs have a tendency to pop off).
I typically have a couple Nalgene Tritan 48 oz full in my truck, as well as a larger capacity tank (like this one) that I keep in my pickup bed. For $16, it's super cheap insurance.
I also keep a Sawyer Mini in my truck, and in my pack when I'm hiking around. Water can look clear, but given the amount of animals and people in National Parks, rivers can be full of parasites like Giardia (also known as beaver fever…) and turn your vacation in to a weekend praying to the porcelain gods. The Sawyer Mini is SUPER small, super effective and can filter up to 100,000 gallons of water. It's so small, I tend to carry one in my bike jersey when on long, hot bike rides. No need to pray for a gas station when a stream provides safe drinking water to keep you going.
In the winter, do your best to keep water from freezing. Refrain from filling containers completely full, allowing ice to expand in the event it does freeze.
NON-PERISHABLE FOOD IS CRITICAL: Calorie-dense food is your friend when you find yourself without access to a meal. Equally as important, in my opinion, is diversity of calories and ease of absorption. When out on extended hunts or climbs, one of my favorite foods is a Snickers bar. Here's why: Snickers offers several different ingredients that the body uses at different rates. Chocolate and caramel are absorbed quickly and give you a 'sugar high' while peanuts are a more slow and sustained burn once the sugar burns off. I'd keep some Snickers, trail mix, or similar foods in the pack and even in your backpack, just in case your adventure turns in to something more difficult.
IF YOU'RE CAMPING: If you're truly camping, you can't beat a collection of Mountain House meals, MSR Stove and a couple BIC lighters for a quick and satisfying meal. On long mountain climbs and Alaskan hunts, our daily food looked like this:
Mountain house breakfast, instant coffee and hot chocolate mix
Snack throughout the day: trail mix, cheese and summer sausage (big 2-3 pound blocks of calorie dense meat and cheese which don't need refrigeration), candy bars.
Constant intake of water, adding Gatorade or Muscle Milk powder if working hard. - Dinner of Mountain House, hot chocolate, candy bars, trail mix.
It ain't much, but it's honest!
ACCOMODATIONS: It goes without saying – if you're planning on a hotel, make sure you have reservations before you pull into town. Small tourist towns commonly on the outskirts of national parks can reach capacity very quickly. For this reason alone, I always include a small tent in my truck.
TENTS There are a million tents on the market, but for me, there are a few non-negotiables: lightweight, ease of setup (if you end up using your tent unexpectedly, you're probably in the dark or in some weather, and speed of setup is your friend!), waterproof (or with a rainfly) and a nice vestibule to leave your gear in outside of the tent, but protected from the elements. A great option for 1-2 people is this Stone Glacier Skyscraper 2P.
CAMPING SLEEPING PAD: Beyond simple comfort, a sleeping pad keeps you off the ground and keeps you insulated and warm, as well as dry. I use the Klymit Insulated Static V Lite, but there is a lot of personal preference based around cushion, weight, etc.
SLEEPING BAG: My KSB 0 Sleeping Bag has kept me warm for days in -15 degrees, but may be too warm for summer camping for some, so make sure your bag is rated for the temps you'll be spending time in. I highly recommend waterproof down as an insulator.
SLEEPING BAG AS DRYER: A sleeping bag not only keeps you warm, but can act as a convection piece to pull moisture away from your body at night, thus drying out damp clothes and more. Pro Tip: if you're going into cold weather, a Nalgene full of hot water put in your sleeping bag can act like a heater and keep you warm all night.
HIKING FOOTWEAR: As with almost anything: It depends. That said, I'd break it down in to 2 categories. Lightweight Hiking Shoes: if you're doing a few miles, with a lightweight pack, a sturdy trail running shoe is perfect. My go-to is the Hoka One One SpeedGoat 4. I love the cushion, traction and breathability of this shoe. If you want a bit more support, they make a mid-height shoe as well.
Midweight Hiking Boots: 5-10miles a day, carrying 40+ pounds and going off trail a bit, you may require a bit more support. Something like the Zamberlan Baltoro Lite GTX RR is a great lightweight, yet supremely supportive boot. The boot is designed to flex less, giving you a stable platform even when only part of your foot may be connected to the ground. Waterproof, and with tons of protection around the toe box and sides give you a great boot – I tend to find the heel cups can create hot spots the first few times you wear them. In those situations, a couple blister gel bandages, like the ones found in our Uncharted Triage Kit, work wonders.
There are stiffer, insulated boots, but if you're looking at something like that, you're probably on a more serious adventure.
HIKING SOCKS: In a boot, I prefer a thin, breathable sock made of merino wool or a wool blend. You want something to wick moisture, dry quickly, and not smell. I like a mid-calf sock to keep debris away from inside and next to my feet.
BEST GAITERS FOR HIKING (Optional): One of my favorite pieces of gear when I'm off-trail is a low gaiter. Keeping rocks, sand and other debris (even slush and snow in the spring) out of your shoes is a game changer. But also not necessary if you're sticking to the path. I love these.
HIKING CLOTHING: Layering is key. Many parks are in the mountains and mountain weather can change by the hour, so having the ability to transition quickly is critical. Merino base layers and mid-layers are great. Something like the Voormi Baselayer Crew and Bottom if the weather is cool. If it's a hot summer day, I'd suggest the Voormi River Run Hoodie (I like hoodies as they keep the sun off your neck) or the Black Diamond Alpenglow hoodie and lightweight pants like the KUIU Kutana Stretch Woven Pant – stretchy, durable, and fairly water resistant with venting provides a great all-around pant. Jackets depend on climate, but a good system for coverage would include a packable puffy coat, lightweight hardshell jacket or possibly a lightweight softshell.
FLASHLIGHT/HEADLAMP: I have used several different headlamps over the years. Black Diamond makes several great ones. In the end, I prefer replaceable batteries (and bring a few extra sets with). And it never hurts to go brighter than not – this is a good option.
SOMEWEAR LABS: I keep a satellite communicator with me 24-7. It's so small, and so easy to use – and provides rescue when things get uncertain. The Somewear allows you to text, receive texts and send your location. It also has an SOS feature built in if you're in need of serious rescue. Expensive, but worth it if your life is on the line.
ZEUS: This may look like a strategic product placement, but the reality is we built the Zeus to fill a need. There's nothing more frustrating than a dead battery due to something trivial, like a dome light left on. It also provides light and a way to charge your other devices for days on end. Highly, highly recommended.
SEVENTY2 PRO SURVIVAL SYSTEM: For the rest, and even some of the things listed, the Seventy2 has you covered. Flashlight… extra food… beanies… gloves…. knife… duct tape… water bottle and on and on. This survival kit quickly becomes a 'go to bag' and less a 'go bag' when you're out there and need that one little thing you forgot. We built the Pro to provide you everything you need, no matter what. I find myself, almost every time, opening it up and using something because the unexpected has happened and the Seventy2 Pro had just the thing.