How to Prep Your Gear for This Ski Season
December 23, 2019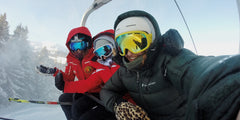 The right gear can make all the difference when you're gliding down the snow-covered peaks of a mountain top this season. From your skis, boots, and poles to your emergency items, the proper equipment can help you keep warm and can even save your life. However, if you decide to explore the snow-covered outdoors, be sure you're prepared to have a good time and for any hazards that may come your way. 
Hitting the Slopes
Whether you rent or own, your skis or your snowboard is the most important piece of equipment you'll need when you hit the slopes. You'll need to be prepared to lug a lot of heavy equipment. What you wear is also essential. To protect yourself from the cold, you'll want to wear thermals, sweaters, jackets, gloves, and hats. Wearing multiple layers can help you battle the chill if it's freezing out. Goggles and sunglasses are a must, but the item you definitely don't want to forget is sunscreen. Even though it's cold, you'll want to protect yourself from the direct sunlight as well as the rays reflecting off the snow. Make sure you have a moisture-wicking base layer to keep you dry and an insulating layer to create a barrier of warm air. Top it off with a breathable shell to keep out the snow.
Staying Healthy and Hydrated
You'll also want to have snacks and water with you. Elevation causes dehydration so make sure to always be drinking water. A day filled with physical activity in the cold might not leave you as sweaty as other outdoor activities, but you're still using a lot of energy. In fact, winter excursions often burn more calories and energy than your normal activities. So, make sure you're staying hydrated and that you're not overexerting yourself during this winter. 
In Case of Emergency
Like with any outdoor activity, skiing and snowboarding pose potential risks and dangers. Make sure you are riding with a ski buddy and don't ski out of your skill level. It's essential to prepare for these potential hazards before heading out to the mountain. Having the proper survival equipment and cold-weather protection will let you tackle that next ski run head-on. 
Whether you keep it in the car, or you carry it with you, a good survival kit can help you safely enjoy the season. Building your own requires a lot of time, research, and knowledge that you may not have. It's why we have the Seventy2™ Survival System. Our system has everything you need to survive the first 72 hours of a disaster situation. With clearly organized and labeled instructions, this system is designed by experts for everyone. The system fits into a backpack that can be stored on a vehicle or be carried.
However, you may not want to glide down slopes with a survival system on your back. We get that, which is why we made the 
Triage Kit
, an ultra-lightweight emergency kit that can easily fit in your jacket pocket. While it doesn't have all the same instruments and equipment as our Seventy2™, the Triage Kit can help repair broken gear and address injuries while waiting for help to arrive.