Holiday Survival Guide 101
December 15, 2019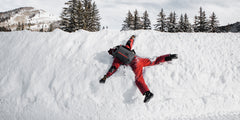 It's that time of year again and we all know that the holidays can be a little hectic. From the seasonal shopping rush, to getting on the roof and putting up your light display, to grandma overdoing it on the eggnog, slip-ups sometimes happen. It's a great time of year to be merry but also be prepared for anything this winter might throw at you. 
So break out those decorations and turn on the holiday tunes because we have all the best tips to avoid everything from slight inconveniences to not-so-jolly injuries. If you keep this advice in mind this season, and you'll spend the holidays safe and sound. 
Holiday Hazards
While the holiday spirit may fill you with joy, an injury can turn your into a Grinch pretty quickly, especially if you're underprepared. Below are a few of the most common Christmas scenarios to watch out for. 
Decorating Disasters

 – From decorating the tree to putting lights up on the house, decking the halls often puts you in precarious positions. Whether you stand on a chair, ladder, or a stack of boxes, a fall can happen at any time. Before putting up your décor, carefully inspect your equipment to make sure everything's sturdy and reliable. In the event of a fall or injury, having a 

Triage Kit

 ready can be a lifesaver while treating your wounds and waiting for emergency aid to come.
Holiday Hangovers

 – We all want to have a good time during the holidays, and sometimes enjoying some holiday cocktails with family and friends is fun. Always drink responsibility, especially in inclement weather. Weather can affect your alcohol consumption, and if driving through snow and ice, you'll need your senses in peak condition.   
Icy Obstacles

– The holidays usually include time on the road, often in less-than-ideal weather. Before heading out, inspect your car to make sure everything is in tip-top shape. A patch of ice can be the difference between arriving home on time or being in a dangerous situation. The right 

survival kit

 can make the difference when traveling during the holidays. Weather can also affect your car's battery, so make sure you have the tools for 

jump-starting a vehicle

, especially if you're on your own. 
Seasonal Sickness

 – The holiday season stops for no one- even if you get sick. It's an especially important time to take preventative steps by encouraging good habits for everyone in your house. It may seem obvious, but 

keeping warm

 is also a great way to keep from getting sick. If you're in the elements during the holidays, make sure you have clothes that keep you warm and cozy.
Seasonal Safety Tips
To ensure you've made the season bright, keep these things in mind to stay safe throughout the holiday season. 
Review electrical décor for damages

 – Loose connections, cracked plugs, and bare wires can cause a spark that leads to a fire.
Check your fire extinguisher

 – The best way to prepare for danger is to check your emergency equipment regularly. A large portion of holiday fires are electrical, which you can't put out with water. You should have a proper extinguisher on hand all year long.
Don't overload an outlet

 – Avoid plugging too many items into a single outlet. Use a surge protector and only plug one high-wattage appliance into each outlet.
Make sure flammable objects are nowhere near open flames

 – Keep all combustibles at least three feet from any heat sources. Also, consider raising your stockings a little higher and keeping the presents near the tree instead of the fireplace.
Unplug, turn off, and extinguish decorations

 – It may not be very expensive to leave your lights on overnight, but electrical décor can overheat and cause fires. Use a timer to make sure the lights are regularly turned off and manually extinguish any candlelight before going to bed or leaving for the day.
Prepare for inclement weather

 – While the holidays bring warm tidings, they also often bring snowy weather. From power outages to being snowed in, make sure you're ready for the unexpected with 

portable chargers

, 

emergency tools

, and 

survival equipment

. 
Be ready for the worst this season. Whether you need a survival kit during an unforeseen disaster or to jump-start a dead car battery, Uncharted Supply Co. has you covered. Have a merry and bright holiday!