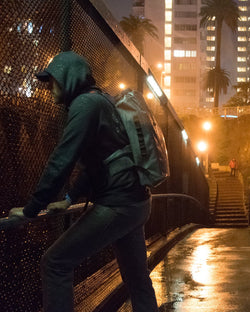 Severe Weather
Our products are purpose-built to withstand the most extreme environments, because that's when you'll need them most.
Survival Systems
Our survival kits are housed in a 600D tarpaulin, welded backpack that will keep your gear dry, protect it from rodents, mold, and even UV damage.
Power Systems
Our power systems are designed for extreme temperatures, feature 8 shock protections, have jumped the largest engines on the road in below zero temperatures, and can power your devices for days.
The Zeus Pro
This portable battery charger can get you back on the road when no one's on the other end of the jumper cables, fully recharge your power tools, and revive your dead devices if no power supply is near. 
20,000 mAh, portable battery jumper.
The Athena
Bring your own electricity with the all-powerful Athena, our newest portable energy system. Whether your car needs a jump or your laptop needs a boost, the Athena's 16000 mAh capacity holds more than enough power to get you home.
16000 mAh, portable jump starter.
The Rapid Raft
Our pack raft is small enough to keep in your pack, car, or in your recreational vehicle. It takes 30 seconds to inflated and requires no other tools, giving you instant floatation, and even a makeshift shelter, when the weather turns quickly.
Trusted By Professionals
Skip Bedell

Preparedness Expert on Fox

The Seventy2 is color coordinated to guide you in making the right decisions when adrenaline spikes and you're not sure what to do. I keep one in my RV all the time.

Clint Bruce

Navy Seal

With the organization and instruction in the Seventy2, Uncharted has pre-solved most of any emergency situation. Don't leave home without it!

JEREMY STEFFENSEN

Hunting Guide

As a professional guide, I'm responsible for not only myself, but my clients. The triage kit is with me every step of the way. And when we're moving fast, nothing works better than the Park Pack for a quiet and fast stalk.
When you need to depend on your gear, depend on Uncharted.