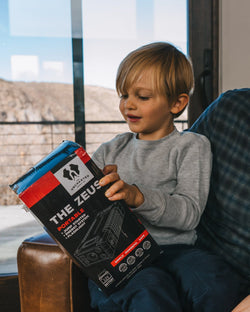 Best Sellers
Products trusted and loved by some of our most loyal customers.
The Zeus
Do you own a car? Then you should own a Zeus or Athena. It's that simple. No product we make has had more "this thing saved my day!" than these two. Simple to use, 8 fail safes meaning you never have to worry about attaching it the wrong way, add USB charging and a 5 mode flashlight, and this product will make you a hero. We guarantee it.
THE SEVENTY2® Pro Survival System
The Seventy2 started it all, and the Seventy2 Pro is the evolution. Coverage for 2 people at much less per person than the Seventy2 makes this product an incredible value. Trusted by government agencies, private security teams, and countless people around the world, this is THE best survival kit you can buy.
First Aid Plus
The plus means it's more than a first aid kit. It's our First Aid Pro plus a large collection of tools to help you fix, patch, and repair your way back to safety, all rolled up in a super durable and waterproof welded package with Molle attachments on the back.
The Park Pack
The sleeper product of the year. From Olympians to hunting guides to pro mountain bikers, the Park Pack has been called "the best hip pack ever" by everyone who's strapped it on. Add the triage kit for some emergency coverage, and this will be your go-to piece of kit for years to come.
The Rapid Raft
Award winning and trusted by bush pilots, backcountry fisherman and hunting guides, this sub-4 pound raft will get you where no other raft can. Inflates in seconds without any tools, and durable enough to take on Class III rapids (though we don't recommend it), there's nothing more amazing than the Rapid Raft.