April 13, 2023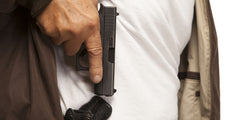 Editor's Note: Michael Zarkos is a retired Navy SEAL with extensive training in the firearms industry.  While firearms can be a controversial topic, it's our goal to present all aspects of self-protection and survival, and let our community use the information as they wish.  We're honored to offer up his perspective on everyday carry firearms, and we hope this is a helpful starting point if you or your loved ones are interested in learning more about these important tools. 
--
As Americans, we exercise our second amendment right to carry concealed firearms in order to deter crime, because we can't always rely on the authorities for protection. Criminals are receiving lesser sentences for their crimes, police organizations are facing reduced funding, and the global economy is approaching a downturn. Statistics for violent crimes are on the rise, which has created a large demand for firearms and training.
During the global pandemic (2020-21), I conducted +1,500 firearms lessons to new and advanced shooters, and I have witnessed how hundreds of shooters perform operating the top conceal carry firearms on the market. From these many lessons, I evaluated and tested shot placement (grouping), functionality (ease of use), overall size & weight, recoil, magazine capacity, trigger weight / length of pull ("LOP"), and dominant hand usage, in order to determine my top everyday carry ("EDC") firearms.
This is a list of the 5 best conceal carry firearms currently on the market: 
[#5] HK VP9SK: Heckler & Koch ("HK") is a battlefield proven brand. The VP9SK is #5 for the main reason that it is fully ambidextrous. Firearm functions (i.e., magazine release and slide lock/release lever) are located on both sides of the firearm, which makes it easy for left-handed shooters to operate the firearm without adjusting their grip. This is ideal if there are left-handed shooters in the house.
[#4] Sig Sauer P238: The P238 (.380ACP) is light in recoil, which means that it is a great choice for shooters who may have a smaller frame. The recoil spring is also very light, which allows the user to easily lock the slide to the rear. This is important because the shooter must be able to confirm the firearm is clear and safe, to perform maintenance and in some cases, fix a malfunction. The P238 is ideal for any shooter who has sustained hands injuries, undergone surgeries or who may have arthritis. It is compact, at only 5.5" in length; but due to its small size, the magazine capacity is limited at 7+1 rounds. 
[#3] Sig Sauer P365 Macro Comp: The P365 series offers modern functions on a highly customizable platform. The P365 Macro Comp features an integrally compensated slide, which substantially reduces recoil. The slide is optic ready—but comes standard with tritium night sights. It also has a flat trigger and an accessory mount. The independent fire control unit ("FCU") can easily be removed which allows users to swap the grip, and the magazine capacity is impressive at 17+1 rounds. 
[#2] Glock 43x: Glock is known for manufacturing reliable firearms with a reputation that is time tested. Glock handguns are mass produced, making accessories—such as holsters and magazines—very easy to find; and Glock has more certified armorers (for service and maintenance) than any other manufacturer. The frame is slim, at 1.1"—ideal for an appendix carry. You can put an optic on the Modular Optic System ("MOS") models and the accessory mount is also available on newer models, but not standard across the 43x line. The magazine capacity is only 10+1 rounds, but Shield Arms makes a 15-round magazine for the 43x. The 15 round magazine requires the Shield Arms mag catch or else the user will encounter malfunctions. 
[#1] Staccato C2: The Staccato C2 is #1 because nearly every shooter shot substantially better with the C2 than of the many other firearms tested. The main reason is that the trigger is light, and the length of pull is very short. The 2011 trigger has 2mm length of pull (very short), a 5lb break and a 2mm reset. With this light and short single-action trigger, shooters typically achieve superior groupings. A longer, heavier trigger causes the muzzle to experience more movement, and can affect shot placement. The C2 is heavy, comprised of steel and aluminum, which reduces recoil. The grip width is 1.49", which can be difficult to hold for shooters with small hands. The magazine is 16+1 round capacity. Lastly, the C2 costs substantially more than the other EDC pistols; however, it is important to carry a firearm that you shoot well, instead of looking for a discount (if you can afford it). 
It is important and highly recommended to test firearms at your local gun range before you decide to buy. Purchase the firearm that is most suitable for you. If you are new, seek professional guidance on how to operate the firearm. Practice your holster draw and dry fire at your home to improve your proficiency. Acquire your conceal carry license if your state of residency requires it. Study the use of force laws, as well as the 5 elements of self-defense. Stay away from areas where the crime rate is high and try not to travel alone. Carry your everyday carry Every Day because your life may depend on it.