How To Pick Shoes for Hiking
May 11, 2023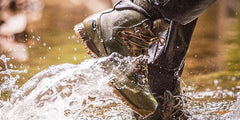 Some of the questions we get most frequently, and some of the most common misconceptions we hear, evolve around footwear.  What shoe/boot is right for X activity?
As with almost anything, experience will provide you the best answers, and no two sets of feet are the same. What works for your hiking buddy may be completely wrong for you. So spending time testing different solutions, different brands, and different styles will quickly inform you of what works best for your foot.  That said, here's a list of considerations to help you get pointed in the right direction:
There are 4 specific data points I use to determine the right boot/shoe for the job:
MOISTURE |  TEMPERATURE | TRAIL VS OFF-TRAIL | PACK 
I constantly see people in hiking boots out on our local trails. I'm talking smooth, mountain bike worthy couple mile loops on the outskirts of town. In a situation where you're staying on trail, a boot is rarely necessary (pack weight is one outlier to this thought process - more to come there….) and the stiffness and weight of the boot will only slow you down and make your journey more difficult.  For these situations, opt for a trail shoe instead.
My favorites are the
HOKA ONE ONE SPEED GOAT
and the
SALOMON SPEEDCROSS
. These shoes have tons of traction, are built to withstand abrasion and more, and frankly help you move so much quicker, saving energy along the way. The HOKA Speedgoat is a great running shoe. I often compare it to an ATV tire - tons of grip, insane cushion, and it turns rocky paths into a smooth experience. The wide sole also helps your foot find a flat landing and significantly cuts back on ankle-rolling that I have often found in other cushioned trail shoes.
The Speedcross - this is a great shoe when you're out exploring or if you prefer running with very little cushion.  The sole is very firm, and the traction is incredible.  It's as if they put a hiking boot bottom on a running shoe.  If you're in rugged terrain, moving fast, but maybe not running, I'd recommend this option.  It's also a great option for hunting as it gives you a very stable platform. 
If you're off-trail, a lightweight boot may be a better solution. Boots have a variety of heights and soles for different use cases. 
AKU Selvetica Mid GTX
is a step above a shoe, this is an insanely comfortable hiking boot that I wear in light moisture, when I'm in a mix of on and off trail, and not carrying a ton of weight.  I'd recommend this as a 'tweener' between shoe and full hiking boot.
If you'll be side-hilling, kick-stepping through snow, or scrambling up steep rocks, a stiff sole and tall boot will provide you a strong purchase, and even when only having a small part of your foot on a rock ledge, almost create a step for your entire foot, saving your calves and other lower leg muscles tons of energy. 
If you're moving quickly off-trail, but the environment is flat, with thick vegetation, a more flexible sole will help you feel the ground better and navigate smaller obstacles.
Moving to
moisture
…. NOTHING is worse than wet feet, but this can happen in a couple different ways.  You can have external moisture (a puddle, stream, etc) and internal moisture (foot sweat) that can ultimately cause some of the same problems.  In the most wet situations, like rainy days, trails with lots of river crossings, heavy dew in the morning - you're going to want a waterproof boot.  Technologies like Gore-Tex are fantastic solutions to keeping your feet dry, but another consideration is height.  If you're constantly crossing streams, in mud, or thick vegetation, a higher boot, where the waterproof material travels higher up your foot, is something to consider.  On the contrary, don't buy a gore-tex  boot if you're going to Iraq.  While materials like Gore-Tex do breathe, it is still a layer or membrane designed to create a barrier and will never breathe as well as a boot without that layer.
Pack
- One of the big considerations is pack.  The weight of a pack can exhaust you quickly if you're not used to it, but a good set of boots can make a big difference.  Remember the different flexibility levels of the soles?  Boot soles are made stiff to counter the extra weight of a pack.  I have many boots that do not flex when I wear them, but add a 60 pound pack, and they flex in a supportive and predictable way.  They also help your foot plant firmly, where a shoe could bend and flex unexpectedly, and prevent rolled ankles or falls.  
Temperature
- This goes without saying, but if you're in freezing conditions, add some Thinsulate.  That said, a heavily insulated boot is not the right option if you're going to be moving: There is a big difference between an ice fishing boot (where you're sitting) and a winter hunting boot (where you're constantly hiking).  Most winter hunting boots I have have roughly 200g of Thinsulate in them.  In extreme cold, you could easily go up to 400g, but the 200g makes a tangible difference in keeping the cold out, while still allowing for a slim boot capable of moving quickly.  
A few other quick points:
Break In:
Yes, some lighter boots with synthetic materials do not need an extensive break-in period, but the stiffer the boot, the longer you should plan to break in. DO NOT put on a fresh pair of hiking boots on the first day of a week long adventure.  You'll regret it! 
Sizing:
It's worth getting properly fitted for a boot.  Good hiking boots can last years and years, and the wrong size can ruin the experience.  I've had a half-size too big make my boots virtually useless because my heel would slip climbing mountains.  A couple days of heel rubbing and your life is not that fun.  That said, if you bought the wrong pair, try insoles, bigger socks, etc to absorb some space.  
Brand:
There are an incredible number of high-end boot makers.  Each one builds their boots slightly differently with unique lasts (shapes).  Try different brands. Don't just by X brand because your buddy has them - I've found that even tiny features can mean the difference between constantly being in pain or not even thinking about your feet after days on them. 
Here's a few examples of my favorite shoes and boots for different situations: 
HOKA Speedgoat - my go-to trail RUNNING shoe. Supportive, super cushion-y, lightweight.  
AKU Salvetica GTX - Probably my best recommendation for an 'all-around' boot.  Fits like a lightweight boot or trail shoe, but with the addition of gore-tex and a stiff last, makes it function in rugged terrain much better. 
SCARPA/KUIU - This boot is waterproof, super tall, has 200g thinsulate, and features a super stiff sole.  This is the boot when I'm carrying a heavy load for weeks in Alaska in the fall.