5 TIPS AND TRICKS FOR HOME SECURITY
March 09, 2023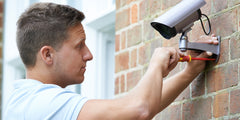 I recently installed a new home security system in my house.  What once was a very quiet neighborhood is now filled with construction, new neighbors, and exponentially more traffic than I've previously experienced. I reached out to my friend Jeremy Steffensen, who runs Black Diamond AV here in Park City, and put together an affordable system that provides me a significant amount of protection. Here are some of the best tools and tips for securing your home and monitoring it for any potential threats:
Smart cameras: Smart cameras are a great option for monitoring your home as they allow you to view live footage of your home from anywhere, at any time. They also come with motion detection and night vision capabilities, making it easier to spot any intruders. The cameras I had installed can discern between a car,

animal

or person. It can even tell me if a package has been left at my front door, and

all of

these notifications quickly get pushed to my watch, giving me instant visibility 24-7.

Smart door locks: Smart door locks allow you to control access to your home remotely, using your smartphone or other device. This means you can easily lock and unlock your doors, even when you're away from home. 

Often

I'll have someone pick up my dog to take him out for exercise, or may have friends staying while I'm out of town. Providing a unique key code allows me to limit access to my house

and also

know who is coming and going.

Smart lighting: Smart lighting can be used to deter burglars by making it appear as if someone is home. But can also provide you lighting when you find yourself outside, at night, with your arms full. You can schedule lights to turn on and off at specific times, be triggered by motion, or even control them remotely using your smartphone or other device.
Motion security systems: I have motion detectors on each door and window in my house. I can have a notification sent to my phone any time a door or window is opened. Another great tool if your home has windows and doors on ground level.
Neighborhood watch: Lastly,

Joining

a neighborhood watch program is a great way to stay informed about any potential threats in your area. I have several neighbors on a text chain that are always quick to send a message if something concerning happens. In fact, in one recent incident, I was able to use my neighbors' security cameras to pick up a vehicle that my cameras did not.  
Implementing these devices and tools can go from full-professional install to do-it-yourself. For a professional install, search for a reputable company in your area. If you're looking to do it yourself, here's my recommendations on top 5 home security cameras you can pick up on Amazon or at Home Depot. 
TOP 5 Home Security Cameras
Nest Cam IQ Indoor: This camera has a 4K sensor and can differentiate between people and objects, making it great for identifying intruders.

Ring Stick Up Cam Battery: This camera is battery-powered, making it easy to place anywhere in your home. It also works with Amazon's Alexa and Google Assistant.
Arlo Pro 3: This camera has a 2K resolution and offers a wire-free installation, making it easy to place and move around your home.
Google Nest Cam Outdoor: This camera is weatherproof and can withstand temperatures from -40 to 113°F. It is also equipped with night vision and two-way audio.
Eufy

Security Indoor Cam 2K Pan and Tilt: This camera offers a 2K resolution, pan and tilt functionality, and works with Amazon Alexa and Google Assistant.
It is worth noting that these cameras are highly rated by experts and customers, but the best camera for you will depend on your specific needs and preferences.