Episode 003 - Lonnie Mayne
August 13, 2018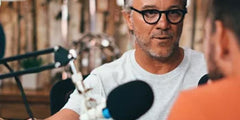 "Leadership is getting people to believe in something they can't see." - Lonnie Mayne

A leader must know how to follow.

While this might sound counterintuitive, it is the secret to success. When the person at the top entrusts those below him/her to make the right decisions, the collective whole feels empowered to do their best work.

But many companies today don't follow this recipe. They infuse fear into the company culture as a cheap way to make people do their work. While the tasks may be getting accomplished, this compression actually stunts innovation.

On today's episode of the Life Uncharted Podcast, we are joined by Lonnie Mayne. Lonnie is the CEO of Red Shoes Living, a team of leaders who has helped businesses grow 817% over the last few years by creating a culture focused on making a positive impact in the world. As an internationally recognized speaker, Lonnie shares his expertise on standing out in the way you live, the way you interact with people, and your overall contribution in the world.

Tune in to this conversation to hear the key components of his philosophy, the most frequent mistakes he comes across, and what it was like having Andre The Giant come over for dinner as a young child.