Episode 001 - Dr Eric Meyer
August 13, 2018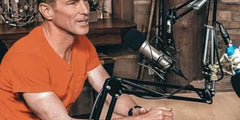 "If you have doubt, if you're depressed, if you're uncertain—start by helping someone else. A person will find empowerment through that." - Eric Meyer

Every challenge is both mental and physical.

Trying to separate the two is a fool's errand. Anxiety at work calls for deep breaths and slowing the heart down. And a good workout requires muting the voices of doubt saying, "It's time to go home."

The people who constantly put themselves in these challenging circumstances grow by learning to deal with these voices on a regular basis.

That's why on today's episode of the Life Uncharted Podcast, we are joined by Dr. Eric Meyer. Anesthesiologist by trade here in the United States, Eric found a new patient population by serving farm and mountain populations overseas. A doctor, climber, and high-altitude medical specialist—he has summited Mount Everest two times and was part of an infamous expedition at K2 that resulted in one of the deadliest days in mountaineering history. But had Eric not been there, the day would have been far deadlier.

Tune in to this episode to hear Eric's story—how he has climbed the infamous K2, what he thinks is most important for young people, and why we should embrace the areas outside our comfort zone.