The Zeus vs The Athena Jump Starter & Charger
March 30, 2023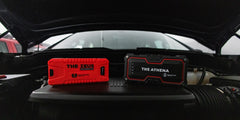 THE ZEUS - A BEST SELLER
We launched The Zeus 5 years ago.  At the time, battery jump starters of its size were a little known commodity, and there was a lot of bad product on the market.  As with everything we do at Uncharted, we wanted to build something that was not only better, but more user-friendly, and extremely trust-worthy.
We added 8 different protections (it'll never shock you, and if you put it on your car backwards, it won't damage your battery or vehicle), and used a high-voltage multiplier to quadruple the power of The Zeus vs competitors, allowing it to be rated up to 8.0L Diesel engines (though I have many examples of people starting even bigger engines).
The Zeus has since been a top seller and one of our highest rated products.  People often buy and come back for more for their friends once they've experienced it's power and convenience first-hand.   USA Nordic uses
Zeus's all Winter to power cameras on ski hills around the world, as they record and coach their athletes.  Jack Carr depended on the Zeus when filming the trailer for his latest book.  Our friend Nathan used his to start a broken down snowbike deep in the backcountry of Utah, and we've received hundreds of videos of our customers starting everything from bulldozers to Harley-Davidsons with it.
INTRODUCING THE ATHENA
But the one thing The Zeus didn't do, was power new USB-C enabled laptops from companies like Apple.  In a quest to incorporate this technology, we were unable, at the time, to simply bolt it on, without adding significant size and weight.  Thus, the Athena was born.  A little smaller (rated to a 6.0L Diesel) and a lot smarter (USB-C, Micro-USB, shock proof, water proof, and dust proof), the Athena is actually a more useful tool with its only limitation being the lack of ability to jumpstart beyond 6.0L diesels.
WHICH ONE IS RIGHT FOR ME
Plain and simple: unless you are driving a vehicle with a 6.0L Diesel engine or bigger, the Athena is going to give you more versatility.   Power your laptop, light up a dark night for hours, charge devices through USB, USB-C and Micro-USB and, of course, start your vehicle when the battery is dead.  Personally, I drive a Ford Raptor and the Athena is what sits in my glove box.   It's worth noting, that both systems also work on any 12V battery system, which includes many motorcycles, off-road vehicles, and more.