The Perfect Gift for the Dad Who Has Everything
June 05, 2017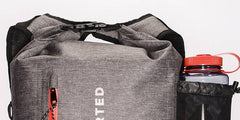 Dad - Your Backstop. Your Educator. Your Insurance.  Your Protector.
Also… The guy that has everything / The hardest person you know to shop for.
He's worked hard his whole life, and now, he researches his favorite interests, and buys what he wants on any given day of the week.  He doesn't hint at what he wants, and he definitely doesn't wait for his birthday hoping you guessed correctly.
As a nation, we revert back to the simple things: ties, tools or maybe even a new iPhone. But I think we all know Dad isn't too excited about another tie, no matter how excited he may seem upon receiving another one.
So why not make this year different?  Give him something useful, unique and surprisingly fun? Not to mention something that is so 'dad', it will make all of his unused ties curl up in embarrassment?
We, of course, are talking about our critically-acclaimed Seventy2. So why is this the perfect gift for dad? Well, we're glad you asked…
IT'S SO DAD.
What is more Dad than something that is always there, ready to save the day? The Seventy2 will give him all the tools and instruction to take his "Dadding" to the next level. And if your Dad is getting up there in age, give him the extra tools he needs to stay on top of things and be more Dad than ever before.
MORE LIKE 35 GIFTS.
The Seventy2 features over 35 high-quality survival tools. From the Sawyer water filter, to the Eton phone charger to our plastic inserts that double as snowshoes and arm slings, Dad is guaranteed to spend hours going through all of the surprises in the Seventy2.
QUALITY. QUALITY. QUALITY.
Dad only buys the best? Never fear. The world's best mountain climbers have praised The Seventy2, and publications like Outside Magazine, TIME, Huffington Post, Popular Mechanics and Gizmodo are all fans. Dad will be impressed with the quality and surprise features. We promise.
FREE FAST SHIPPING
Can't make it home for Father's Day? Free shipping will get The Seventy2 to his door at no added cost to you. We've streamlined our shipping processes and almost always ship same-day.
KEEPING AHEAD OF THE JONESES
We opened for business less than 6 months ago, so odds are, if you're buying a Seventy2 for your Dad, you're getting him something none of his friends have.  Give Dad the gift of being the cool guy on the block and he'll remember this Father's Day for years to come.