The Hidden Features of the SEVENTY2
May 31, 2017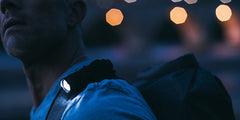 THE HIDDEN ADVANTAGES OF THE SEVENTY2
We carefully considered each component of The Seventy2 to ensure they have the highest utility. We want to make sure you're getting the most out of your Seventy2, so here's a few hidden features you may not be aware of:
HANDSFREE LIGHT
Three elastic straps on the top of your Seventy2's shoulder straps are specifically designed to hold the waterproof flashlight found inside. Simply place the flashlight under your preferred elastic strap (different straps accommodate different body sizes), and slide the flashlight clip over the strap. If additional stability is needed, you can use the elastic strap in front or behind the flashlight to help secure further.
The flashlight is waterproof, features an adjustable beam, and high, low and strobe settings.
With over 8 hours of use, this gives you a great handsfree light solution when on the move.
TWO REMOVABLE PLASTIC INSERTS
One of our favorite pieces of the Seventy2 - the hard plastic inserts not only provide a protective exoskeleton, but can also be removed from the pack for several uses.
The pre-existing holes are designed to create an arm sling or snowshoes, when threaded with the paracord. For a great tutorial on the arm sling, check out this video!
Don't let the usability of these plastic panels stop here. They can also work as a shovel, a fan, and many many other features.
TWO BACKPACKS IN ONE
You may have noticed the insert also includes it's own set of backpack straps. This allows it to be carried separately when more than one person is present.
Not only can this help distribute the weight, but it also frees up the Seventy2 shell to carry over 15 liters of extra... anything. Food, clothing, even water. We have tested it as a pet and child carrier, and it will function in those capacities as well.
A POM-POM?
The Uncharted Beanie features a pom-pom. Stylish? Yes. Useful? Yes!
The pom can be removed and used as kindling to start a fire when it's difficult to find small and dry material to help start a fire.
Simply carefully cut the pom away from the included beanie. If you have access to any form of fuel (petroleum jelly, etc) apply some to the pom. Place other, larger kindling around the pom and carefully light.
Float On
The outer backpack is airtight, and in a pinch, can provide floatation. Simply roll the top 3 times, but open a corner of the top and blow air in until as firm as possible. Then quickly complete rolling the top shut and clip. Place the backpack on your chest and wear backwards. Do not wear as you normally would on your back - this will force your head downward and potentially under water.
Emergency Whistle
Maybe you noticed it, maybe you didn't... but the orange sternum clip features a built-in emergency whistle. Good for getting anyone and anything's attention, simply give that thing a powerful blow to alert people to your position.
The Seventy2 is a fully comprehensive, expert reviewed 72 hour survival kit with over 35 tools to help you deal with hundreds of life-threatening emergencies. An ultra-bright CREE LED flashlight, sawyer water filter, Datrex food, and an Eton hand-crank tri-band radio are just a few of the essential tools in The Seventy2. As a modern bugout bag, the kit is perfectly organized inside a state-of-the-art waterproof and airtight tarpaulin backpack, which looks great without drawing attention. Weighing just under 12 lbs, its compact size takes up no space in the corner of your office or under your desk.