Ambassador Profile: Tim O'Donnell
June 13, 2017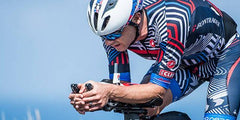 Ironman: 2.4 mile swim, 112 mile bike ride, and a 26.2 mile run... For anyone, it's a major accomplishment to simply finish. 
It's an entirely different thing to set the American record and complete a course in just over 8 hours.  In fact, it's nearly impossible.  
Meet Tim O'Donnell. 
One of the world's most successful and experienced American long-course triathletes. As a professional, he has earned 50+ podium finishes including over 20 wins at major events throughout the world. At the IRONMAN World Championship in Kona, Hawaii, Tim finished 6th in 2016, 3rd in 2015, and 5th in 2013, finishing as top American in 2013 & 2015.
Or more simply put, Tim is one of the fittest humans on the planet. Considering his wife, Mirinda Carfrae is a 3x Ironman World Champion as well, and you're looking at the undisputed fittest couple on Earth.
Always a crowd-favorite, and always racing in red, white and blue, Tim has proven he's a patriotic force to reckon with any time he chooses to toe the line. But consistent results and a world-class level don't come by talent alone.  His day in, day out dedication to success is as big of an asset as is his sky-high VO2 Max.
Read on as Tim discusses his heroes, his approach to preparedness, and what keeps him happy and healthy. 
Who was your childhood hero and why?
Larry Bird…#33! He was all about hustle, sacrificing the body to make the play, hard work and grit (and a little trash talking on the court!).
Are you more of a hunter or a gatherer?
I'm a hunter but Rinny says I have hoarding tendencies…maybe that makes me a gatherer?!
What was your first thought when you woke up this am?
"Don't be late… get your ass in gear!" (I got up a 4:00am to meet some friends at 5:00am for a 6hr ride…)
If you were a super hero, what would your super power be?
Knowledge is power so I'd say I would want the ability to know the answer to any question I could ask myself. you could call me Captain Know-It-All!
What motivates you?
Being the best version of myself is what motivates me. There are alot of things you can't control in life, but you can always work towards being the best version of yourself.
What is your biggest, weirdest fear?
Sleeping in on the morning of the IM world champs. How embarrassing would it be if you just show up for the biggest race of the year because you slept in after staying up too late the night before watching old MacGyver reruns? (BTW imagine what MacGyver could do with a seventy2? And I'm not talking about that fake new MacGyver. I'm talking the real deal, Richard Dean Anderson. MacGyver. It would be amazing.)
What would be a good theme song for your life?
Something from Nothing…Foo Fighters!
If you weren't you, what would you be doing?
I'd probably be a male model… getting paid to be really, really ridiculously good looking and drinking orange fraps all day. (Editor's note: Tim spends half of his time as the face of brands like Garmin, Hoka One One, and TREK. He's got a mean blue steel!)
What does 'being prepared' mean to you?
Being prepared to me is being able to give yourself the best chance for success in any situation (foreseeable or unforeseeable)
What makes you most happy? 
Sharing a great bottle(s) of red with my wife Rinny and our friends and family, while listening to some John Denver on vinyl.
If you could go back to any one day in time, what would it be and why?
I'd love to be present when something great was discovered for the first time:
watching the first fire get created by man
seeing the first hunter using a bow and arrow take down its prey
being there when someone decided that the should combine peanut butter with jelly or ketchup with french fries. Why did they do that? how did they know it would be awesome? who knew!
What compelled you to purchase The SEVENTY2 and what would you tell someone who doesn't own one?
We were drinking wine at some friend's house and they showed us their "go" bag for when things got real. We always wanted to put one together too but, lets be honest who has time to figure out what to put in that bag...right? So of course we bought them as soon as available! To those who don't own a seventy2 I'd say, do you really want to spend the time to figure out what goes in there too? I didn't think so. just go online, buy it and be done. You can spend that time you saved sipping a bottle of cabernet while listening to JD serenade you with the sweet sounds of Rocky Mountain High!