Ambassador Profile: Roland Sands
June 12, 2017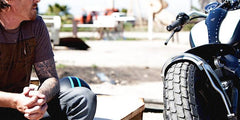 Ambassador profile: Roland Sands
Editor's note: Our team of ambassadors are world-renown in their fields.  From design, to preparation, to mental fortitude, each have traits, characteristics, or experience we feel are great relevant examples to our audiences.  As we strive to build beautiful, functional products, Roland Sands is a great example of someone who did the same thing in another industry.  His perspective and approach is one we admire as we build out Uncharted Supply Co.
You could say Roland Sands was born on two wheels.  His parents, owners of Performance Machine - a performance aftermarket motorcycle shop - put him on a bike at 5 years old and he hasn't looked back since.  After ten years as a pro, Roland had amassed multiple track records, including the AMA 250GP Championship in 1998 but with over 30 broken bones, and a young family, his attention has now turned to building some of the most beautiful custom motorcycles the world has ever seen.  

With clientele that reads like a summer blockbuster playbill, and a booming global business focused on design, function and performance,  we're proud to have Roland on the Uncharted Team.  
We swung by his shop in Los Alamitos, California, to ask a few questions to the man himself.
Who was your childhood hero and why?
Kenny Roberts. He was the man on a road race bike and flat tracker. Wayne Rainey was also a big hero of mine, they were all motorcycle racers. That was all I really cared about growing up, racing bikes.
Are you more of a hunter or a gatherer?
I'm a little of both. I used to be a lot more hunter, I supposed I still do a lot of hunting I just do it over email rather than on the racetrack. Desk racing.
What motivates you to continue innovate and create with roland sands designs?
I just love the idea of growing a brand and an idea that continuously can change and adapt to the days inspiration. Our ship is small enough where we can change things daily to effect the brand and move with the times, that's fun.
What started your talent and interest in building custom bikes?
I grew up surrounded by racing and custom bikes. Then I raced for nearly 10 years and applied that to custom bikes and parts.
What would be a good theme song for your shop
I am the Walrus, that's the first thing that came to mind. Dunno why.
If you weren't you, what would you be doing?
Surfing and skating somewhere exploring the earth, getting by doing art and design. I don't know, maybe I'd be making films. Hard to say, I've always been pretty motivated but I can be lazy too. Sometimes it just feels good to say fuck it and relax. But I don't have that choice now I've got two baby girls in the picture. I got to stay on the grind.
If disaster struck, what is the one item you own that you would have to save or bring with you? Why?
The 72 and a gun.
Ever want to build the ultimate survival Armageddon bike?
Hell yes. I've thought about it quite a bit. Wouldn't do me much good now unless I could carry the family.. so maybe it needs a trailer that can carry babies.
What bike would you transform, and what would be a couple key features to help you survive.
It would have to be an off road bike. A GS would be a great bike as they have a huge fuel tank. Maybe an XR400 with a baja gas tank, that keeps it light, or possibly the new Africa Twin. Something burly that can run over curbs and zombies.
If you could go back to any one day in time, Yours or some moment in history, what or where would it be and why?
I'd probably go back to the day Hayden was born. I lost the video of her being born and I would like to have that again.
You were one of the first supporters of Uncharted and The Seventy2, what was it that attracted you to this idea or product?
I've got a little doomsday prepper in me and I've always thought about how underprepared we all are. The 72 gives you enough leeway to potentially get out of a tough situation and that gets you and those you love in a better position if something shitty happens.
Follow Roland: Roland Sands Instagram. And Roland Sands Design .