How to safely ski, hike and adventure with your dog.
March 23, 2023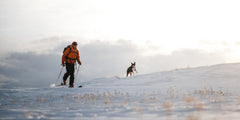 At Uncharted, we are dog people.  Not only is our logo a homage to the brave St. Bernard, but our pet-friendly office is energized by employee-puppers, Barron, Finley, Daisy and Sam. You can find us taking full advantage of Park City's amazing nature with our dogs by our side.
Because of this, we love answering questions to help people get their dogs outdoors like our lucky pups. My favorite tips on introducing your dog safely and efficiently to their best life yet begin with a few questions to ask yourself, how to start, by top dog trail etiquette tips and what to bring.
FIRST, ASK YOURSELF THESE QUESTIONS
1) Is my dog less than one year old? For most breeds, it's not recommended for dogs under a year of age to go on big runs.  Their bones are growing at an incredible rate, and logging miles on soft growth plates, and joints that aren't fully developed can create long term issues.  
2) Is my dog an old homebody? If your dog hasn't been active its whole life, it's not a bad idea to check with a vet first and make sure there are no underlying conditions to be aware of.   That said, while you wait, you can start developing good habits in your dog that will come in handy down the road.  Make sure your dog understands basic commands like stay, leave it, come, and others.
START SLOW
Dog's personalities and abilities are as diverse as humans.  
Consider your dog's disposition, physical abilities, age, and interests.  

Start with shorter adventures with limited elevation changes (going downhill for long distances can be hard on a dog's shoulders, so it's important to let them build up to it).   
3 TRAIL ETIQUETTES FOR DOGS
One of my favorite techniques to develop good trail "petiquette" is to have a friend with a well-behaved and experienced dog join you for the first few times.  Dogs will often quickly fall in line and learn proper behavior from a pack. 
Don't have an experienced pet available? Take a short hike with friends who are willing to help you teach your dog trail behavior. 
Here are three trail etiquettes to start with. Train your dog to:
Get out of the way of an oncoming mountain bike, runner or fellow pup. This is critical.  

Not chase animals can potentially save their life. 

Stay close to their owners and quickly respond to commands when the unexpected occurs. 
WHAT TO BRING
WATER - I always carry nearly double the water I'd need for myself, for my dog. I've trained him to drink from a squeeze bottle, eliminating wasted water and the need to carry a bowl.  Practice with a squirt bottle at home first.   If that doesn't work, there are great collapsible water bowls you can carry that are pretty light weight.
LEASH - Even if you don't keep your dog on the leash, it's critical to have one.  You may encounter an aggressive dog or other animal, or you may have a dangerous place to navigate. Putting your dog on a leash gives you extra control and provides the dog certainty in what to do.  My leash is a 10' strand of paracord with a small carabiner attached, allowing me to use the leash for other things if needed.
FIRST AID - This is literally why we designed the
Wolf Pack.
  People think about human first aid, but seldom think about specific needs for dogs. Hemostats, tweezers and 'vet wrap' are critical additions to your first aid kit.  Dogs often have injuries to their paws, or feet, and these tools will help tremendously.  I also make sure I have a layer to wrap around them (maybe my own) in case of emergency or unexpected weather.  Dogs' coats are great defense, but an extra layer can go a long way in certain situations.
TRACKING - My dog wears a FI Dog Collar.  A caveat - it only works when you have cell service, but when in service, it's great.  I can quickly look at my phone and see where my dog is if he's wandered off.  If you spend time off the grid, I'd suggest a
Garmin collar
that can track outside of cell range.
FOOD - I like to pack calorie-dense treats for my dog.  Bring his favorite treats and let him have them intermittently as rewards along the trail. 
Adventuring with your dog can be a rewarding and fun experience.  I hope these tips help you get started, and we'll see you out there.