June 30, 2021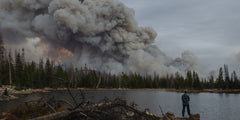 Ancient Egyptians, Native American tribes, and even 20th century Balkans alike have resorted to rain dances throughout history to grow crops and bring water to their livestock. 
"By praying … [or] asking God or whatever higher power … we may be able to escape the deadliest aspects of the continuing drought," Utah Governor Spencer Cox said on June 3 in an official tweet.
2021 has entered the chat. 
Utah is in trouble.  A state of emergency was declared on May 13 – a date where in a typical year, snow melt was still filling reservoirs and flooding rivers.  As of June 14, the entire state is in a state of drought with over 60% of the state in an 'exceptional' drought – the most severe category.  
In a typical year, roughly 95% of the state's water comes from melting snowpack in the higher elevations.  But reduced snow this past winter means less meltwater, and increased temps have led the dry soils to absorb the water before it can even reach rivers and streams. 
"The forecast for stream volume through July is 25 to 40% of normal," says Glen Merrill, the hydrologist at the National Weather Service in Salt Lake City.
NOAA's Climate Prediction Center is predicting that unusually hot and dry conditions will persist through the summer and despite all of these stats, Utah is JUST entering the peak of its driest period of the year.
"It's not looking good,"  Merrill said. 
But Utah is not alone.  
Lake Mead outside of Las Vegas has hit a record-low level, threatening the water supply for millions.  A new Nevada law will outlaw about 31% of the grass in the Las Vegas area in an effort to conserve water.   In fact, the entire western half of the United States is facing severe water shortages not seen in decades. This will likely equate to wildfires, lack of water, and a cascade of issues that affect every living thing in the region.  
So what do we do?  And what can we expect?  We spoke with Uncharted's own Nick Ermarth, a former wildland fire fighter, and his team, on this topic.
WILDFIRES
With statewide drought – we're at extreme risk for fires, with some already popping up around the state in early June. 

"Over 80% of wildfires are caused by people.  Whether it's a campfire not put out properly, fireworks or even a semi trailer dragging chains down the freeway, being extra careful can go a long way in preventing the huge fires that we've seen in places like California in the last few years," Ermarth said.  
Here's a few tips everyone can adopt:
CREATE A SAFETY ZONE AROUND YOUR HOUSE
Maintain a 30 foot or greater safety zone around your home.  This means clearing this area of brush, tall grass, and other flammable vegetation. If your home is on a hill, extend this distance as fires can travel more quickly uphill.   Use fire-resistant plants and trees, and keep your lawn raked and mowed and free of any dead limbs or grass that could easily light. 
COOKING AND CAMPING
If you're grilling at home, never leave the grill unattended and keep a 10' distance around your grill to prevent brush or anything else from accidentally lighting.  Once finished, place ashes in a metal bucket and soak in water. 
If you're camping, make sure to only start fires in approved locations and where there is not a burn-ban in place.  Clear overhanging branches and if there isn't one, create a rock circle around a dirt pit to help contain the fire.  

Keep water, and a shovel, near the fire at all times and make sure your fire is 100% put out when you leave the fire. 
VEHICLE BEST PRACTICES
Do your best not to park your car, or other vehicles on dry grass or near shrubbery.  If you have a vehicle issue on the road, stay on the paved shoulder or find a nearby parking lot or rest stop to stop.  For truck drivers, ensure your chains are secured in a way that won't allow them to drag and spark going down the road, and if you're on the road a lot, consider a spark arrester – a special muffler that suppresses fire-starting sparks.  
FIND YOURSELF IN A WILDFIRE?  
Here's a few tips from FEMA on how to survive if you find yourself in a dire situation.
PREPARE NOW:
We're telling you – THE ODDS OF FIRES THIS SUMMER ARE GREAT.  Why not plan ahead and give yourself an advantage?  
Sign up for your community's warning system.  Make sure you have a radio on hand that has a NOAA (National Oceanic and Atmospheric Administration) radio  - like the one found in the Uncharted Supply Seventy2 and Seventy2 Pro so you can provide emergency alerts.
Know evacuation routes and leave immediately when officials alert you to do so.  If by chance you get trapped – leave lights on to signal you are home. 
Gather emergency supplies including at least an N95 air mask, gloves, and goggles to help protect you from gasses and fine particles put off by wildfires. 
Carry plenty of water, and a way to purify more water.  The Seventy2 and Seventy2 Pro features two water containers and Sawyer water filters which can filter ash, chemicals and particles out of tens of thousands of gallons of water. 
--
Until the rain dances and prayers are answered, it's each person's responsibility to make sure we don't make this year any worse than it has to be. The chances of being in an active wildfire are still slim, but the negative health effects and potential debilitating effects of smoke on your lungs and eyes are significant. Sensitive groups can develop chronic coughs, lung irritation, even pass out from dense, smoke filled air. Smoke and fire debris can also cause eye irritation, scratched corneas, infections. 
"Finally, I will just say that every person who ventures into the outdoors to recreate never thinks it will be 'them' who starts a fire," said Ermarth.
"We encountered countless homeowners who refused to prepare their houses for a fire (clearing brush, trees too close to the structure). They always said 'we are safe with our grills and fire pits, no need to worry'," he said. Months later, those same folks' houses burned to the ground as flames caused by neighborhood fireworks leapt from trees to their roofs.
You can be as safe as you can, but just like driving, it's typically other people you have to worry about. Being prepared for that is not paranoia, it's smart. With wildfires in the West, it's not a matter of "if", but definitely "when".