Why you need a bug out bag on Wall Street.
July 21, 2017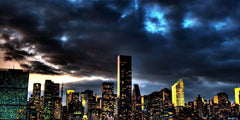 Don't be left in the dark when the power goes out. 
On a balmy 90F summer afternoon in August of 2003, the power went off in Manhattan. Air conditioners stopped, lights flickered off, and traffic signals ceased working. By early evening on August 14, nearly 50 million people on the east coast were without power. And without running water, cell phone service, cash machines, and trains. Some buildings, like hospitals, had back-up power but most everyone was experiencing the worst blackout in American history.
Within hours, local hardware stores were stripped of flashlights, generators, batteries, and candles. Convenience stores sold out of water. The combination of the hot temperatures forced most people outside to escape the insufferable heat. While the police were dispatched en masse to maintain order, it was the quick work by Con Edison to restore power in New York city the next day that helped avert major disruptions and potential chaos. 48 long, hot hours later, power was restored to the entire grid. 
For most New Yorkers, it brought back frightening memories of 9/11. Terrorism wasn't a factor in the blackout, but it didn't take much for people's minds to race about what could've been responsible.
Most everyone was caught off guard by the loss of power and the complete loss of services that went with it. In an age of mobile phones, many people were ill-prepared on what to do next. But if they had an emergency survival kit like The Seventy2, they would've had the basics - water, light, food - and a kit complete with other tools that would've helped keep them safe.
The Seventy2.
Expertly curated for urban emergencies.
The Seventy2 is a fully comprehensive, expert reviewed 72 hour survival kit with over 35 tools to help you deal with hundreds of life-threatening emergencies. An ultra-bright CREE LED flashlight, sawyer water filter, Datrex food, and an Eton hand-crank tri-band radio are just a few of the essential tools in The Seventy2. As a modern bugout bag, the kit is perfectly organized inside a state-of-the-art waterproof and airtight tarpaulin backpack, which looks great without drawing attention. Weighing just under 12 lbs, its compact size takes up no space in the corner of your office or under your desk.
The Seventy2 is the best emergency survival gear kit to keep in your office and your home. Its the perfect gift to buy for your team or for your clients. Don't be caught off guard in the city without one. Check out Uncharted Supply Company and The Seventy2 at: https://unchartedsupplyco.com/