Why We Make The Best Survival Gear
June 30, 2021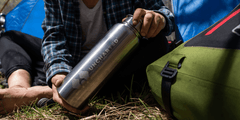 In 2015, I was driving from Orange County, California to Steamboat Springs, Co for New Years Eve.  My Ford F150 was loaded down with gear, and I was excited to spend a few days in the mountains.  As luck would have it, a freak snow storm left 2 inches of snow in the mountains behind Orange County and stopped me dead in my tracks for over 7 hours.
Two inches of snow was trivial to me.  Growing up on a farm in Wisconsin, weather was a constant.  Racing snowmobiles in my youth, I learned how to dress and navigate sub-zero temps. I'd spent weeks on hunting trips as feet of snow fell on my small tent, and I'd definitely spent a lot of time storm-chasing over the years, hunting the rare powder days.
But this wasn't trivial to my fellow travelers that day.  Confusion, fear, and inexperience swept over the highways and caused chaos that quite frankly made my jaw hit the floor.
"If 2" of snow can do this, what happens when the big one hits?" referring to the long-overdue earthquake that experts continued to warn Californians about.
Growing up on a dairy farm in Wisconsin, 40 trips to Iraq, hunting trips and mountain climbs had always put me around 'experts' who became mentors.  People who focused on survival and the navigation of the unknown. What I didn't realize was that my perspective was skewed.  A 'new' type of person I was in bumper-to-bumper traffic with had a very different background than me .
WHY EVERYONE NEEDS A SURVIVAL KIT
I began to research what I was experiencing and came across these key points:
Our society is becoming more specialized and technical: farmers were being replaced by advertising execs. Machinists were being replaced by IT consultants.  Our society rewarded people who were extremely skilled in very specific verticals and the generalists were quickly disappearing.
Our society is becoming more and more dependent on technology: Uber, AAA, Amazon Prime, Siri.  Amazing tools to help optimize time and provide you what you need in a very efficient manner.  Amazing tools until you don't have electricity or data, or the systems are over-capacity. 
First Responders are becoming more overwhelmed: In urban areas, like Los Angeles, Chicago, New York City, Dallas and other large metro areas, it was statistically impossible for first responders to help even a small percentage of people in a large-scale emergency.
The only person you can count on is YOU: Whether it's a wildfire or pandemic, there will be moments when supplies, communication and the ability to travel or have someone travel to you can be massively delayed or simply cut off. Having what you need, on hand, can truly be a life-saving difference. 
WHY I DECIDED TO BUILD THE BEST SURVIVAL KIT
Yes, there were bug-out bags, but generally these were poorly executed, low-quality kits that provided a false sense of security.  And if someone wanted to build their own, it was confusing, and time-consuming.  No instruction, no organization, and sloppy kits built by overseas companies that may or may not be legit.
EXPERT-DESIGNED SURVIVAL
I quickly began working on a solution.  I met with friends who were experts in different fields: doctors, military, EMT's, bush pilots, mountain guides and more.  Guys who had not only experienced, but saved lives in some of the most dangerous environments on our planet.  I asked them all the same question:
"I don't want to know what you have or use.  You're an expert. But what would you give your 10-year-old son in an emergency if you weren't there to protect them?"
The idea was to create not just a survival kit, but a survival system that is not only high-quality, but hyper-intuitive.  A survival kit that would provide the most inexperienced person gear, guidance and peace of mind to improve their situation.
THE UNCHARTED SUPPLY CO RULES
In the end, I focused on a few key points, which now inform the design of any Uncharted product, from The Seventy2 to the Triage Kit to the Zeus Battery Jump Starter:
Quality components: If it is in the kit, it needs to work at a life-saving level.
Organization: If you have a cut, you should not have to sort past your food or water tools to find first aid.
Guidance: Easy color-coordinated, step-by-step instructions designed to provide a trusted voice when in uncharted territory. 
COPYCATS
The first product became the Seventy2, and it changed how people think about preparedness from that day on.  Since then, many brands have mimicked us.  They've copied our design, copied our instructions, and even copied our videos.  While a few like to claim that they beat us on price, a quick look through their kits will reveal cut corners and cheap product.   We've tested their gear – cheap bags that leak and rip, plastic boxes that shatter when cold, missing pieces of kit, and even one competitor who replaced hand sanitizer with dish soap to save money. 
UNCHARTED AUTHENTICITY
Beyond the product, it's important to know who you're buying from.  When you buy Uncharted Supply Co, you're buying a survival kit that is tested constantly to exceed the use-cases they are intended for, while maintaining an ease-of-use second to none.  Our ideas for products come from experiences, and our designs are tested on a daily basis.  Hiking, biking, hunting, climbing and off-roading simulate emergency situations and help us constantly improve our products.  We've tested products in the Arctic Circle, Central America, the Middle East, Canada and of course across the United States to make sure our products are reliable and to be trusted.
In fact, the Original Seventy2, while appearing to be unchanged since its launch, has seen over 26 small improvements over the last 3 years. 
Our Zeus was designed to start a car.  As of today, its started hundreds of thousands of cars, trucks, boats, tanks, helicopters, airplanes, bulldozers, tractors and more.
Our Rapid Raft – designed for calm water crossings, has navigated Class III Rapids for weeks on end.
And our collaboration with YETI brings to market a home survival kit in a box that is quite literally bear-proof and far superior to anything else on the market.
BUILT AND CHOSEN BY EXPERTS
We believe that Uncharted's military and expert DNA with a civilian perspective provides a trusted yet familiar experience unlike other products, and the right approach for most civilians currently without extensive training. 
What we didn't expect was that our customer list would include the CIA, FBI, Secret Service, US and Canadian Border Patrol and dozens of Emergency Response Teams across the country.
Our products consistently receive glowing reviews – from customers, editors, product reviews, doctors, EMT's and preparedness experts, and we're constantly working to improve them every day.
THE FUTURE OF UNCHARTED SUPPLY CO
It's an exciting time at Uncharted. We're expanding in to over 350 retail locations in 2021, with a thousand more in 2022.  Our goal is to make sure our products are quickly available when an emergency is closing in. We have several exciting new products which will launch this year, and we're being relied on by The Weather Channel, podcasts, and media publications around the world for our perspective on how to prepare for our ever changing world.