May 17, 2017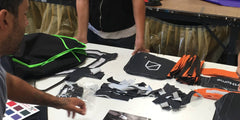 Preppers are a passionate bunch. So you can imagine when a new kid (read Uncharted Supply Co) shows up on the block, there are plenty of people ready to critique, judge and compare what we're doing.
We welcome it.
We built our products to be different from day one because we knew what was out there wasn't good enough. We carefully considered everything: quality, price, weight, contents. We consulted with experts. We tested and retested. And then we asked the critics what they thought. Here's what they had to say:
Outside Magazine: "This $350 Bag Will Keep You Alive"
InsideHook: "Consider The Seventy2 Another Form Of Life Insurance".
Our products have been praised by Time Magazine, Huffington Post, Popular Mechanics, Gizmodo and dozens of other trusted publications.
But we believe to truly understand a product, you have to understand the why.
So why did we build it the way we did? Here are few reasons why we think the Seventy2 is the best product on the market.
IN AN EMERGENCY, SECONDS COUNT.
Emergency kits are used in emergencies. Heart-pounding, adrenaline-pumping, compromised, scary every-moment-counts emergencies. Forget the days of dumping a backpack full of supplies out on the ground, searching for the one thing you need right in this moment. In the Seventy2, tools are organized by need: food and water, first aid, shelter and warmth, etc. Allowing you to get to the exact tools you need faster. In addition, we got rid of all of the difficult to open packaging, saving seconds, and saving the environment.
STRESSFUL SITUATIONS COMPROMISE RATIONAL THINKING
It's well documented that psychologically, humans have a difficult time making rational decisions in times of emotional turmoil. Because of this, we built the Seventy2 to guide and assist decision making in times of high stress. And our color-coded instructions not only guide novices through new situations, but reassure veterans that they're doing things exactly as they should.  Even our water bottle has measurements making sure you're drinking exactly enough water, and not wasting by drinking more than your body can absorb.
READY WHEN YOU NEED IT
Let's be honest, the life of a survival kit is not much different than that of a backup quarterback. Forgotten and ignored until they're needed, and then expected to bail the team out, despite a lack of reps or warm-up. But unlike an NFL quarterback, your kit is likely living in a basement, car trunk, or closet. Sometimes for years. We took this in to consideration when building The Seventy2. The shell features 600D tarpaulin and extremely waterproof construction designed to keep your survival gear supplies safe, dry, and ready to perform when you need it.
The insert features hard plastic panels (more on those later) that not only give structure to the Seventy2, but protect the included food, and other more breakable pieces, meaning you can toss this thing in first and never worry about stacking the rest of your stuff on top of it.
EXPERT DESIGNED AND APPROVED
While one kit isn't going to be perfect for every situation, we consulted with FEMA, The Red Cross, Ready.gov, and our own team of experts to include just about everything you'd need. Go ahead - check out their checklists, and compare it to the tools in the Seventy2. You'll find we're more than up to their high standards. We explored every aspect of this kit - including it's ability to float and it's hard plastic panels ability to convert to snowshoes or even an arm sling in times of need. We've also left room in the kit to add personal items: shoes, charging cables, extra clothes and more.
PRICE VS QUALITY? NOT HERE.
Our belief is that the best situation is if everyone is prepared, so we set out to create an affordable, quality kit that would get you out of a desperate situation. We paid attention to price, making sure everyone could afford it, but also insured our included high-quality tools will perform for much longer than just one emergency. Sure, we could have sourced knives and flashlights designed for daily use, but doing so would have instantly driven our price through the roof, and gone against our goal of creating a product almost anyone could afford.
BUT DOES IT BLEND?
Picture this: You're in the center of a sea of people. There has just been an emergency and crowds are starting to be a bit "every man for themselves". But never fear! You have your survival kit. Your bright red, with a white cross, survival kit. Buddy, that may as well be a bullseye. Congratulations, you've suddenly made yourself a target for anyone bigger and more desperate than you.
If you're not familiar with the term 'gray man', it's simply the idea that in situations like this, you want to blend in. That's why our kits are gray, with subdued graphics. But should the need arise to be visible, our graphics reflect light at night, making yourself visible in storms, search and rescue situations and more.
OUR MISSION
We want to right the ship. We want people to become part of the solution. To help not only themselves, but their neighbors. Our products are designed to support this. We hope you'll join us in this mission.