October 18, 2022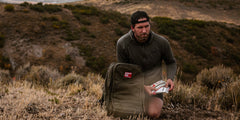 Introducing our new collaboration with
GORUCK
: an emergency bundle for the trail. Choose a 
GR1
 or 
GR2
 from GORUCK and also receive our 
Triage Kit
, a light-weight backcountry first aid and gear repair kit, along with a limited edition Uncharted Supply Co. patch.
Check it out here.
What is Rucking?
Rucking is the action of walking with weight on your back, a low impact exercise based on military training workouts.
Rucking burns up to 3x more calories than walking, improves posture and allows for social fitness. You can ruck anywhere, anytime. 
We're big fans of Rucking here at Uncharted. Our founder, Christian, is a self-proclaimed  Rucker for Life. 
"Last year, after returning to my house from a morning workout in the mountains, a visiting friend asked what I was training so hard for. I just said 'life'.  He didn't get it. 
On the fun side, I want to be able to take on anything that comes my way, whether a hard hunt in the mountains, a long mountain bike ride, or helping my family make hay at our farm in Wisconsin. 
On the more serious side, in an ever increasingly volatile world, I want to be ready for whatever emergency life throws my way, and not only be able to survive, but take care of my friends and family as well."