August 28, 2020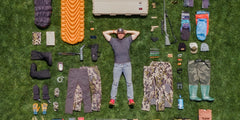 LOCATION: Arctic Wildlife Refuge / Brooks Range – Northeastern Alaska, above the Arctic Circle
WHEN: Sept 1-12
WHAT: Self-supported hunt in Uncharted land
ACTIVITY LEVEL: High amounts of hiking, with intermittent prolonged sitting.
TEMPERATURE: Below Zero to 50 degrees. Rain, Sun, Wind, and likely Snow
NOTES: Need to be able to move long distances quickly, and also be warm for long sits if needed. Must have ability to carry everything on back. Must be able to quickly adapt to changing conditions and needs.
Uncharted RediTape Flat Duct Tape

Armada Gore-Tex Gloves (discontinued)

Fly-Fishing Lures and equipment

Uncharted Supply Co Anti-Bacterial Wipes

Moleskin

Wigwam Socks

KUIU Icon Pro 5200 Backpack

Uncharted Sawyer Mini Water Filter

Icebreaker