Run The Cirque Series Like A Pro
July 08, 2022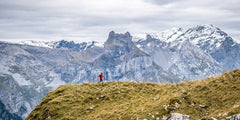 So there I was, running along at 10,650ft.  Having just summited Mt Tuscarora, my second summit above 10,500ft in under 30 minutes.  I ripped out my headphones to try and regain my composure. Led Zeppelin's Black Dog was just one stimulus too much at this point.  My
Garmin Fenix 6x
showed a heart rate of 176bpm. 
I was dizzy, thirsty, and I could feel my body starting to freak out a bit.  My feet were not planting as confidently as they should and I was blinking hard to move the salty sweat out of my eyes. Somewhere in my left sock was a tiny rock digging away at my heel and the swirling wind created the sensation of sea legs beneath me.   I needed to focus, catch my breath, and get it together before I navigated an upcoming exposed ridgeline with impressively placed "little flags to follow" in highly technical terrain.  
Normally I'd stop and gather myself, but I'd been trading leads with a younger, more fit looking guy for the last hour and I'd finally put some distance between us.  If I could get up and over the third and final summit, I'd be through the hardest part of the race and on my way back down to the start, where the race winners were likely already enjoying a post race beer.  That's right, at this point, the only prize left would be a wooden participation coaster that would hang around my neck via a piece of climbing rope.  But I knew my race time would live on the internet forever, and bragging rights were hanging in the balance.  Plus I could almost hear the party down at the finish line from up here.
If I still need to spell it out for you, Cirque Series races are hard. Two years ago, I convinced a friend of mine to run a Cirque Series race with me, to which she declared it 'the hardest thing she's ever done'.  That friend was
Leanda Cave
, 2x Ironman World Champion.
This isn't a 5k fun run through town.  Races range from 7-10 miles, with several thousand feet of vert, exposed trails, and variable weather conditions in breathtaking locations like Alyeska, AK, Engleberg, Switzerland and Brighton, UT. If you've seen the pictures, your first response is likely "how did those people get up there?".  I've run a dozen of these races and still have the same response. 
I've been pelted with hail.  I've been sunburned. I've had to posthole through deep pockets of snow.  I've had cramps so bad that it took two friends to get me back on my feet.
Here are a few sentences from the Brighton Race Course Preview:
"The course is the most direct route to the high alpine, it is steep, but intuitive, you will be pushing hard for the summit, putting yourself to your capacity, lungs, grit, and strength. On Mt. Millicent summit area in particular, pay close attention to your footwork in the technical boulder fields, if you kick a rock loose, immediately yell 'rock' to notify fellow competitors you have kicked a rock loose. If you are further down the course and you hear, 'rock!', please do not look up, please turn your back and protect your head."
Yeah, add the potential for falling boulders to my list above.  Despite all the warnings, it's worth it.  The views, the camaraderie, the elation of crossing the finish line.  If you're still reading, you're probably like me and enjoy Type 2 fun.  
Go online, sign up and read below for my top 5 tips to make sure you not only have a great experience, but also #DONTDIE.
5 TIPS FOR RUNNING THE CIRQUE SERIES
1. TRAINING
My first Cirque race was a lesson in humility.  I generally take pride in being 'in shape' and being a 'mountain guy', I assumed the elevation wouldn't be a problem as I run mountain trails almost every day.  But this isn't mountain trails, this is mountain scaling.  A steep half mile into the race, my lower legs, below my calf, were burning up, leaving me with the feeling of having concrete feet.   Forget VO2 max, and forget your nutrition plan - if the muscles you need to go uphill won't work, you've got a problem.  
That said, very few of us are naturally inclined to run up mountains, so accept that this is an exercise in not only building endurance, but also building muscle required for uphill movement.  There are no shortcuts to building strength and endurance, there's just consistent dedication. The fastest racers are running this type of terrain every day, so find a steep hill, mountain, or crank up that treadmill elevation and make it your new best friend.Mix it up between HIIT sessions and longer, slower runs.  I recommend training on uneven trails as well - building stabilizing muscles will help prevent rolled ankles as your muscles fatigue.   One of my favorite hacks: running with a weight vest.  This builds muscle, improves endurance and even has been proven to increase bone density. 
2.
GEAR
The right gear makes a huge difference.  There isn't a one-size-fits-all solution here, but it's important to find what works for you and to be COMFORTABLE.  Here's a few personal recommendations:  Get lightweight trail shoes with a grippy outsole, lots of cushioning, and a wide base for stability.  My go-to is the HOKA Speed Goat series.  They grip the inclines, absorb the sharp edges and have a wide base that corrects poor foot placement, helping eliminate ankle rolls. 
Wear calf-height socks to keep dust and rocks from sneaking in next to your foot and creating hot spots - and maybe even some lightweight and low gaiters for super dry and dusty conditions. Apply Body Glide to the bottom and sides of your foot before you put your socks on.  Reduced friction is a wonderful thing.  
Leave the tank top at home and opt for a super-breathable long-sleeve running hoodie (my favorites are from
Voormi
and
Black Diamond
). This eliminates the need for sunscreen, gives you protection from branches or falling, and eliminates seams in high-friction areas (think Michael Scott's Dunder Mifflin Scranton Meredith Palmer Memorial Celebrity Rabies Awareness Pro-Am Fun Run Race for the Cure). 
And a shameless plug: skip the running vest and opt for our
Uncharted Park Pack
to carry some water, nutrition, your phone, and maybe a lightweight layer if the weather isn't consistent.  The pack will stay out of the way, it doesn't flop around, and doesn't restrict airflow on your upper body like a running vest does.  Yes, there is water up there, and usually some snacks at the last station, but in my experience, never enough. 

3. PRE-RACE
Get there early.  You never want to be scrambling for a parking spot with the race starting in just a few moments.  Once you're registered and ready to go, wake your heart, lungs and legs up before the gun goes off by getting out for an easy jog with a few bursts of speed.  Jog up some steps, loosen up your ankles, and get warm, but relax.   Sip on water with some electrolytes and stay cool until the start of the race. Find some people to run with, check out the vendors - but don't be tempted to try new shoes, new foods, etc  - and just relax.  No need to tax your nervous system before you've even begun. 
4.
DURING THE RACE
You've got plenty of time to trash yourself. I always recommend that racers focus on the complete, not the compete. Most of these races start with a quick uphill.  Combine that with adrenaline and being in a mob of fit runners, you can easily find yourself red-lining too early.  Relax, find your breath and a comfortable pace and build from there.  Don't be afraid to give yourself 10 seconds to get your heart rate down if you're getting overwhelmed.  Stay on the edge of your comfort zone and if you've got gas in the tank with a few miles to go, let those horses run.   
5. NUTRITION/HYDRATION
There are a few water/food stops along the course, but in my opinion, you're going to want to carry your own.   I recommend 1-2 water bottles and a few quick calories in the form of a GU (I like the caffeinated ones).  As they say, when you're thirsty, it's too late, so continue to take a gulp or two of water every 20-30 minutes at the start. You don't need much in the way of food, but 100 calories and a shot of caffeine can feel really nice about 4 miles in to keep the vibes flowing through the finish line. Note that it's important to include food in your training routine. If your body is not used to eating on the run, this is probably not the greatest time to test it.  
6. TAKE A PICTURE 
There are very few times in your life that you're going to find yourself in a more jaw-dropping environment.  Don't let it pass you by.  Take the selfie or get a photo with your buddies, in the end, this is what it's all about.