Customer Reviews
Write a Review
Ask a Question
05/14/2022
Harry

United States
All you really need
After many hours searching as to what you "Really Need" in the event of an emergency situation, my wife stumbled across your web site. After reviewing the contents of the system we placed an order for 2 packs, 1 for us and one for our son. When they arrived and I actually got to look at the contents, the layout of the equipment and the quality of it, right down to the pack itself. I was greatly impressed. Having been a professional firefighter for 20 years I understood that the amount of thought and research that went into just coming up with the necessary equipment for 72 hour survival for any given situation was enormous. THIS SYSTEM NAILED IT! I would recommend this system in a heartbeat. Just having it in the house or the car makes me feel a lot better prepared.
05/11/2022
Jason H.

United States
Great Kit!
Received the kit a few days ago. Very impressed with the bag and after going through the whole kit, I am equally impressed with the contents. Very comprehensive collection of gear. Initially, I was surprised at the overall size of the whole bag once I saw it in person, but it makes sense based on the content. Thanks Uncharted!
03/28/2022
Charlton

Australia
Great bag very well made
The seventy2 is in my opinion the best all round go bag so well made and thought out made out of great material every thing is labeled and easy to get to Very good great job mate's One thing to look out for for the other Australians buying this if the order is over $1000 aud there is a pretty hefty price to pay the customs in Sydney or where ever they arrive to but in my opinion it is very worth it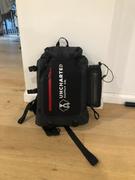 03/20/2022
Nicole M.

United States
Great Starter Survival Bag
My dad is a veteran of the Vietnam War and watched You Tube videos to research which is the best beginner bug out bag. He felt this was the bag. After purchasing one, it was everything he expected and wanted our family safe. He purchased more over the past few months to provide to his family. It's a good starter and the bag has room to add extra things. We can't say it had that much room for clothes. We've added ponchos, compass, manual map, and charger for car to the bags along with extra band aids. Everyone is different with what they expect in a bag. This met his high standards and we are pleased. What he liked the most was knowing in pure panic mode, the bag has everything clearly labeled and helpful tips. Unlike some bags with a long book to read. Thank you for creating these quality survival bags.
03/19/2022
Business M.

United States
Overall disappointment for the cost.
Nice organization and good layout. Likely a bit heavy for smaller humans and definitely pricey for what it is. Most of the items are made in china / branded items like promotional items which we'll see about the quality. Ridiculous that you have to pay extra for external straps to use a solar panel, also for shipping insurance, there is no power bank or additional attachments included. Also there is only 1 bottle for a 2 person kit which is misleading! There really should have been 2 canteens. Overall disappointment for the cost. 3 stars overall.