Rapid Raft
The Rapid Raft from Uncharted Supply Co. is the lightest and most packable raft to ever be made available to the public.
Designed to fulfill a military request for rapid deployment and re-packing for fluid transition to the water, the Rapid Raft is an efficient and trustworthy mode of transport. Its durable and ultralight construction make it perfect for a variety of uses including:

This extremely durable 3 pound raft inflates in seconds and can hold 400 pounds.
Bundle and Save
Bundle the Rapid Raft with some other great Uncharted Products and save big
All that and more
Ideal for quick water crossings
Inflates in seconds via manual quick-fill function
No inflation pumps or tools needed
One-way valve allows user to adjust craft air-pressure, rigidity and buoyancy
Deflates in seconds once closure is opened
Deploys and packs away quickly
Portable, ultra-small and ultra-lightweight
Durable materials and watertight welded seam construction
Multi-use raft, shelter and sleeping pad.
Specs
Weight: 3 lbs 13 oz
Length: 72"
Width: 33"
Weight Capacity: 400 lbs
Pack size: 5 x 5 x 15
Chambers: 1
Fill Time: 1-2 Minutes
Materials: Nylon Oxford TPU Laminate
Inflate your raft
Unbuckle and unroll raft
Unfurl and pull in a scooping motion to gather air
Fold down strap and roll excess tightly together
Buckle the clasp firmly shut
Top off using the one way valve
Customer Reviews
Write a Review
Ask a Question
08/21/2022
William

United Kingdom
Amazing piece of outdoor gear
The raft is very light so with that in mind you are going to get some difficulties tracking when paddling. I would have liked to have seen a detachable Skeg or fin on the base but it is super stable on the water. The stowing points are strong and well positioned I added some adjustable straps for ease of use and some bungee. My own modifications were a food grade silicon extension to the inflation hose which really helps keeping the raft topped up. I also added a 20mm closed cell foam floor which rolls up small and gives insulation and rigidity to the floor which helps paddling on your knees. All in all a great raft and packs down into a waterproof back pack really well. Really impressed with the quality of the materials.
05/06/2022
Julia

United States
Works better than you'd think
My friend has one of these that we used to float around a local reservoir a few times. I ended up purchasing my own to bring on my desert and camping trips. It's a riot.
Rapid Raft
Love the concept and design. I realise its intended purpose/use is for flat water travel (lakes and deeper river crossings). Thus, I was not surprised that when I used it on the Kwetabohegan River, in Northern Ontario Canada, it got a bit scratched up on the first trip. I was a bit disappointed at the time but the scratches were not deep ones. It was a warning sign for me to not abuse this vehicle beyond its intended purpose. On these Northern Ontario rivers the rocks are sharp and gagged, not smooth pebbles like many of the stone covers I've seen in review videos online. If you are going to use this to run a river or creek, then make sure you have high enough water levels that you are not scrapping bottom. I applied some very high quality adhesive tape to the spots that got the worst of the scrapping just to be on the safe side. As I mentioned earlier none of the scrapes became holes. I was actually a bit careless. My travel companion got tired of carrying their pack so we loaded everything into the raft and I roped it down the river and was kind of dragging it over some spots. So, in the end it was my bad. I like this raft enough that I recently purchased a second one. I hope to use it more heavily this coming summer season on the Moose River to jump between islands when I want to go hiking with my dog. I won't be using it across large river channel crossings because the wind can whip-up some large waves here that even a paddle canoe would have a struggle getting through. I find this will be best served to jump between shorter (wind protected) channels between islands in the Moose River delta. In the end, it is a great hiking tool for places where hiking is restricted to the shorelines of islands that are affect by tides. It all comes down to respecting its intended use and design functionality. If you go beyond that, then there will be risks involved in terms of swamping (from waves) or scratching (from abrasion against sharp objects). I'm still looking for a webbed pair of gloves that goes an inch beyond one's finger tips, as such an accessory would be a perfect match for this outback, adventure tool.
10/15/2021
Nate

United States
Very cool!
The raft works great but the tube isnt long enough to properly add air when you're in it. I do plan to add the tubing to it like Kyle suggested. I've also thought about if the boat bottom was inflatable like the sides are, you might be able to get some extra buoyancy and rigidity, and maybe some insulation from the cold. I'm about 6' and my legs just barely fit, The raft works best for me when I leave some extra volume in the back roll-up for some extra buoyancy to compensate for my weight. Overall its pretty cool, and I haven't seen anything quite like it. I plan to go on lots more adventures with it.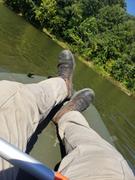 06/02/2021
John S.

United States
Perfect for the size.
Love the rapid raft. Took it out on the lake last weekend. It seems very well made and I'm not too worried about puncturing it. 2 downsides though. One is the thin bottom which gets cold from the water. I put down a wool blanket and that seems to work well. Two is the position of the inflation valve. The raft seems to deflate slowly and having the valve behind you makes it difficult if not impossible to reach. I'm gonna go to home depot and get some length of rubber tubing to extend it. Sure that'll work.