Customer Reviews
Write a Review
Ask a Question
05/10/2022
Richard D.

United States
expectations--exceeded
So far--excellent--though haven't used it yet. I really like the size, the labelling of slots and pockets, and the outside CPR card pocket that can also hold ID/credentials. The kit appears very thoughtfully designed and the contents most-carefully packaged. The contents are surprisingly not near their 'best when used-by' date, and notably not 'made in China'. I do encourage the firm to offer enhancements/upgrades and refills.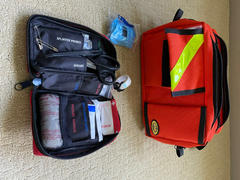 11/02/2021
Sarah M.

United States
Just what I needed
Writing this review because I'm grateful for this thing. Took it on a 4-day horseback trip and used just about everyday. Clipped it on to my backpack, although would work great clipped onto saddle. Everyone should have a first aid kit. Simple, really.
03/16/2021
Robert K.

United States
11/02/2020
Sean

United States
Really nice compact kit
Very happy with the kit. I needed something for backpacking, so compact was important but also needed solid contents. The kit contains most everything you need for very basic first aid. What's nice is the kit provides a large "Personal" pocket that allows you to add items. The selection of bandages that came with the kit was a bit limited, so I purchased a few different types (knuckle bandages, butterfly, etc.) and put them in the Personal section. I also added a small tube of burn/cut antibiotic cream. The kit pouch is very sturdy and the right size to throw in a pack. Really no complaints. Happy with my purchase.